Taking a spring break road trip with your family is a great American tradition. Preparing properly for your trip is essential. You need to pack well, plan to have at least one other driver, and budget wisely for everything, including fuel, as gas prices vary greatly in different regions. Also, be sure to contact your Baldwin Woodville Insurance Services agent before you leave, to see if they have advice, or just to let them know where you will be in case anything happens. A lot of planning goes into a successful road trip.
Vehicle Preparation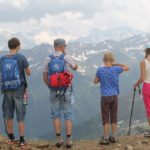 You want to spend your money on having fun, as opposed to renting a vehicle, so if you're going to drive the family SUV, station wagon (do they still make those?), or minivan, you definitely need to ensure the vehicle is in good condition before you take off on your trip.
Schedule a checkup where you regularly get car maintenance done, and tell your mechanic of your plans. They will know to change the oil, check and top off all fluids, test the battery, test the brakes, and inspect your tires. Then follow any suggestions they make to prepare your vehicle for a long drive.
In addition, stock your vehicle with an emergency kit that includes blankets, flashlights, jumper cables, and a good first-aid kit, among other items. It's also a good idea to have maps of the roads you will be traveling. Yes, physical maps. You will use GPS mostly, but what if you are in an area with a weak signal and get lost?
If Something Does Happen
What if, after all your planning and preparation, you end up getting a ticket in Tallahassee, getting into an accident in Albuquerque, or have your car stolen in Sacramento? This is where your good relationship with your Baldwin Woodville Insurance Services agent will be key.
Because you have a professional, helpful agent at Baldwin Woodville, you shouldn't have to worry. Your agent will let you know who you should contact in your current location, which details are covered by local and/or Wisconsin insurance laws, and if your insurance needs to be adjusted to cover another state's liability limits.
Taking a family spring break road trip should create some of the best memories for your family for years to come. Preparing for the comfort, health, and safety of your family is the best way to enjoy your time, free of worries.